More than 207,000 students in the Denver Metro Area qualify to shop at Clothes To Kids of Denver. Help us Clothe A Child and Change A Life by donating today. Here are just some of the ways you can say YES.
Donate Online
Your financial support is vital to the success of our program. Click the image below to give through ColoradoGives.org.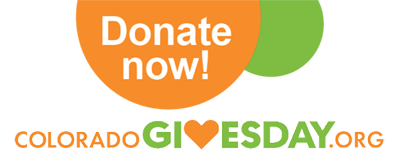 Donate by Mail
If you would prefer to give by check, please make it payable to Clothes To Kids of Denver and mail it to:
Clothes To Kids of Denver
PO Box 100874
Denver, CO 80250
Employer Matching Gifts
Double or even triple your gift's impact on Clothes To Kids of Denver! Many companies offer a match for their employees' charitable giving, so please check to see whether your employer offers charitable gift matching. Not only will you and your company receive recognition for the gift, you also will create awareness among your professional colleagues of the good work done at Clothes To Kids of Denver.
Donate Clothing & Shoes
Please visit our Clothing & Shoe Donations page for our Donation Guidelines and a list of the items we need most. First time donating? Be sure to check our donation drop-off hours (located at the bottom of this page) and get directions to our store.
Support Us While You Shop
This one is easy, and free! Simply take a moment to register for King Soopers Community Rewards and AmazonSmile and a percentage of every purchase will go to Clothes To Kids of Denver. Visit our Support Us While You Shop page for instructions and tips.
Create a Facebook Fundraiser
Celebrate you next birthday or other important milestone by creating a Facebook fundraiser, which allows you to collect financial donations for Clothes To Kids of Denver directly from your Facebook page. It only takes a few minutes to set up and all donations come directly to Clothes To Kids of Denver. Easy!
Planned Gifts, Bequests & Stock Donations
A planned gift to Clothes To Kids of Denver ensures the continuation of our program and creates your own legacy of support. Visit our Leave a Legacy page to make a gift of stock or to find ideas about the best way to make a planned gift to Clothes To Kids of Denver.
Financial Information & Form 990
Please visit our profile on ColoradoGives.org to obtain a financial summary or Form 990 tax documents. Can't find what you are looking for? Please email us at [email protected] to request what you need.
Click here to download a copy of our 2021-2022 Audited Financials, our Form 990 for Form 990 for 2022 or our Form 990 for 2021.
Annual Reports
---
Clothes To Kids of Denver is a 501(c)(3) nonprofit organization, meaning that your gift is tax deductible. All monetary donations are acknowledged in writing. Our EIN number is 26-2148733.
Clothes To Kids of Denver has earned a 2023 Platinum Seal of Transparency with Candid/GuideStar! The Platinum Seal of Transparency is the highest level of recognition offered by Candid/GuideStar, the world's largest source of nonprofit information. Check out our nonprofit profile and see the impact your donations are making by clicking the image below: